Design: 

Rookies & Stars actually doesn't look that bad.  Its a brand that's been around for awhile, but its so similar to other products Panini releases.  I'm glad they no longer utilize the chicken scratch design.  That is a plus.  The elongated relic window on some of their cards this year came out really well.  By far my favorite cards from this year's set are the Crusade inserts.  These look just as good as the ones from the 90′s.  Rookies & Stars for a long time has had a love affair with inserting slides within some of their cards.  If this were thirteen years ago, I wouldn't mind it.  But if your going to make cards you can see through, just use acetate.  I certainly wouldn't mind seeing an acetate-like Crusade insert.  Just something to think about Panini.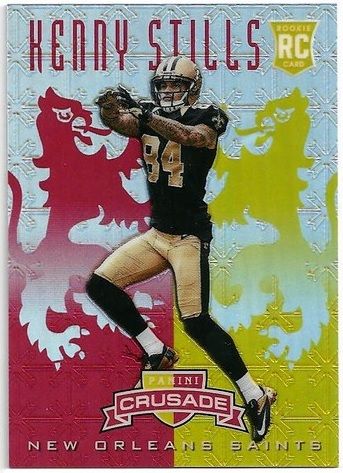 Price: 

Boxes are currently selling for $83.00.
"Hit" Quality: 

As with many other Panini products of this caliber, boxes come with four "hits" – (2) autographs and (2) relics.
I pulled the following:
Autos
Ryan Swope RC Auto
Andre Ellington Slideshow RC Auto #'ed/97
Relics
Giovani Bernard Longevity RC 3-Color Patch #'ed/25
Justin Hunter RC Jersey
Longevity
Barkevious Mingo RC #'ed/99
Da'Rick Rogers RC
Rodney Smith RC
Ben Roethlisberger
Alfred Morris
Panini Crusade
Kenny Stills RC #'ed/99
Kenny Stills RC
Mike Glennon RC
Arian Foster
Rookies
Giovani Bernard #136
Eric Reid #132
Joseph Randle #146
Alec Ogletree #104
Ryan Nassib #178
Geno Smith #135
Manti Te'o #159
Tavon Austin #189
Josh Boyce #147
Ryan Otten #179
Tavarres King #188
Datone Jones #122
Eric Fisher #131
Marquess Wilson #164
Andre Ellington #106
Quinton Patton #174
Corey Fuller #117
Justin Hunter #148
Darius Clay #121
Markus Wheaton #163
Rex Burkhead #175
D.J. Hayden #118
Alex Okafor #105
Tyler Bray #193
Overall: 

Overall, I give 2013 Panini Rookies & Stars a generous 3 hot dogs out of 5 (1=poor & 5=perfect).  This product just blends in with everything else that is out there, but I am glad to see the Crusade cards make a comeback.
Filed under: Reviews Tagged: | 2013, box, break, football, panini, review, rookies, stars