Despite what some collectors and bloggers have to say about Beckett Media, today Andy Broome, who is one of the top vintage graders at Beckett, wrote a piece on counterfeit R423 cards.  These are the ones that look like postage stamps.  It is a really good article.  It is one of Sports Card Info's jobs to help stop scammers and counterfeiters by supplying information like this to collectors.
Source – Beckett Behind the Scenes
"This tiny card issue has been looked over by collectors for many years. Measuring in at 1-5/8x 1-7/8", it is easy to see why. These cards are dwarfed by a postage stamp.
The cards feature a black and white photoengraved image on the front and a generic game-like back that can be found in different colors like red, green, blue and purple.
The cards were issued in either 13-card strips or separated by the perforations and sold individually, most likely through bubblegum machines.
Director of Grading Mark Anderson has brought to light yet another counterfeit example. The examples BGS have are 3 times thicker than an original R423. While an original weighs a mere 0.05grams, the fakes we have weigh in at 0.15grams.
The fake cards are on a very bright white stock as opposed to the original stock which is a slicker, more off-white stock.
Original cards will have perforations on either one or both sides of the card. The counterfeit cards have smooth edges with no perforations.
Under a loupe, it is obvious the fakes have been printed with a computer. The quality is quite poor and is not even close when compared to the tell-tale characteristics of photoengraving found on an authentic example.
If you have studied T206 cards under a loupe, you no doubt are familiar with the "rind effect" of the type found in the players name and team name. The images on the fronts of the R423 are made up of tiny dots of ink that will have that rind effect. The fakes will not have this printing characteristic.
The fact that issues like the 1951 R423's are now being counterfeited is disturbing.
These counterfeits prove that there are no limits to what can be faked and should serve as a warning to collectors who buy raw cards online, sight unseen.
– Andy Broome, BGS Grading"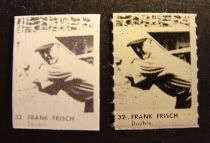 Counterfeit on left.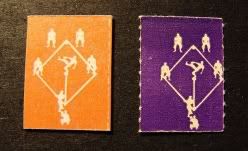 On the left is the back of a counterfeit.
Filed under: Spotting Specific Fake Cards | Tagged: baseball, card, counterfeit, postage, r423, stamp | Leave a comment »